Back To Blog
Once the last traces of fall disappear, that's as good a time as any to make your winter preparations at home. This is especially true if you live in a state which experiences particularly harsh winters. One of the most common tasks performed by homeowners in preparation for the coldest months of the year is winterizing their windows. Others stock up on firewood, food while some get their winter clothes out of the closet. If you have already done all these, another thing that you can do in preparation for the winter is to check on your locks. Read on to find out how you can do just that.
Preventing Your Door Locks from Getting Frozen during Winter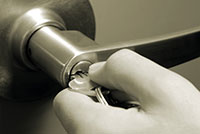 If it hasn't happened to you before, you might actually be surprised that locks can get frozen during the winter. These metal objects have a locking mechanism inside and when frost gets in, that is the time that you could have problems with a frozen lock. So what are you supposed to do to prevent it from happening? Here's a quick list:
Keep your lock protected from direct rain, snow or sleet
Locks may be located directly outside your front door and if there is no roof over it, it could get directly exposed to the elements. Position the locks in such a way that it will not be directly exposed to harsh weather.
Put sufficient amount of oil on the locks
Before the first snowflake falls on the ground, make sure that you have already oiled your locks. Ideally, front door locks should be lubricated three times a year – before winter, in the middle of winter and spring. If your locks usually get stock, you should do it monthly. Getting rid of dirt is also good practice for locks maintenance.
Know what to do in case the lock does get frozen
Finally, what are you supposed to do if the locks do get frozen? Consult a professional from locksmith Peoria who will know exactly what to do with the frozen locks. You can also visit your local hardware to look for items like a lock de-icer which helps melt the ice from the locking mechanism while also lubricating the lock.